«To Be Loved», Michael Bublé canta l'amore – Il Sole 24 ORE.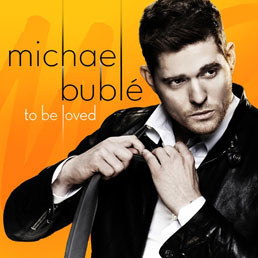 L'amore è sempre stato uno dei suoi chiodi fissi. Michael Bublé, a distanza di due anni da "Christmas", uno degli album più venduti del 2011 (si è classificato al secondo posto alle spalle di Adele), ritorna (dal 16 aprile nei negozi) con un disco nuovo di zecca dal titolo inequivocabile: "To Be Loved".
La parola amore campeggia praticamente in tutti i 14 brani registrati tra Vancouver e Los Angeles, canzoni inedite e cover che rendono omaggio ad alcuni dei suoi miti musicali, come è già capitato con il suo album d'esordio (sono trascorsi dieci anni).
L'amore attraversa le epoche riascoltando "To Love Somebody" dei Bee Gees della fine degli anni Sessanta che fu riproposta negli anni Novanta anche da Michael Bolton, "Nevertheless (I'm in love with you)" di Dean Martin "una delle più belle dell'album" assicura Bublé, la hit degli anni Settanta dei Jackson Five "Who's loving you", "To be loved" di Jackie Wilson e il classico di Elvis Presley "Have I told you lately", mentre insieme all'attrice Reese Witherspoon canta "Somethin' stupid" che rievoca il celebre duetto tra Frank Sinatra e la figlia Nancy, ma anche quello più recente tra Nicol Kidman e Robbie Williams. "Sono da sempre un suo fan, la sua interpretazione di June Cash in "Quando l'amore brucia" che le è valso l'Oscar è strepitosa – racconta – e anche la sua voce lo era, ero sicuro che le nostre due voci insieme avrebbero funzionato".
Ci sono gli omaggi ma anche quattro inediti come il già conosciuto "It's a Beautiful Day", uscito a fine febbraio, "After all" cantato insieme al conterraneo canadese, Bryan Adams, che di canzoni d'amore se ne intende, vi ricordate "(Everything I Do) I Do It For You"? "Era ed è uno dei miei idoli – rivela Bublé – il primo album che ho comprato è stato proprio 'Reckless in 1985′. Immaginatevi quanto ero emozionato a scrivere e a cantare una canzone con lui". Poi ci sono "I Got It Easy" e "Close Your Eyes", "che ho scritto pensando a mia moglie e a tutte le donne. Siamo sinceri, dove saremmo senza di loro?". Bublé a partire dal prossimo 30 giugno si esibirà in dieci concerti all'O2 Arena di Londra. Ovviamente sono tutti esauriti.
Michael Bublé
"To Be Loved"
Dal 16 aprile nei negozi
www.michaelbuble.com